Executive Dean, Faculty of Arts and Media, University of Chester.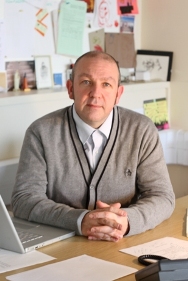 Brendan joined the University of Chester as a lecturer in TV production in 1998 having worked for a number of major television broadcasters and production companies.
An early manifestation of his interest in teaching emerged as he followed his undergraduate studies in music with a short-lived career as a musician and teacher of violin.  Postgraduate study in Music followed, at the University of Liverpool, Institute of Popular Music, which has led to research interests in the performance of identities and the cultural output of the Irish Diaspora. He is a member of the faculty's Centre for Research in Arts and Media (CCRAM) and also continues to play violin – though it is not entirely clear who benefits from this.
Brendan teaches at undergraduate and postgraduate levels in the area of television documentary and broadcast journalism and continues to be an active member of the Media, Culture & Communications Subject association (MeCCSA). He is responsible for the developing relationship between the BBC, Media City and the University and encourages further departmental and faculty links with the creative industries through engagement with such bodies as the NCTJ, Skillset, and regional and national broadcasters.
With an interest in the mutual benefits of strong and sustained relationships between the university sector and industry partners/clients, Brendan has encouraged the development of Knowledge Exchange opportunities within the faculty and acts as peer reviewer for ESRC funding schemes. He has recently been appointed as an Institutional Reviewer for the QAA.